This is just a collection of beautiful New Zealand sunset photos shot from around the country. Captured as the colour bursts from the sky as the sun sets beyond the horizon. An island nation, we tend to get stunning NZ sunsets over the bays and waters.
Living in New Zealand, sunset is a treat I get to enjoy often.
New Zealand sunsets over the Hauraki Gulf
The Hauraki Gulf is the 4000 km² body of water north of Auckland. It's bound to the west by the Hauraki Plains and to the east by the Coromandel Peninsula, with its Northern most point being Great Barrier Island.
While there are over a dozen islands of the Hauraki Gulf, there are countless beaches and and coves to dock a boat, or watch NZ sunset from the shore. Here are a few of favourite Hauraki Gulf sunsets:
Motuora Island
Waiheke Island
One of the few populated islands, there is an easy ferry service from Auckland to Waiheke Island. It's a great place to spend a few days or longer. There is plenty to do on Waiheke, the two highlights being wine tasting or relaxing at some of the lovely beaches.
Yacht racing
I captured both of these shots just after we crossed the finish line during a few seasons of twilight racing. The first was two yachts still on course about to round a buoy. The second was looking back just after the sun dipped beyond the horizon on a red sky night.
More from around the country
More North Island New Zealand sunsets
Bay of Islands
The Bay of Islands is known for its beauty and both the early morning mist and sunset are my favourite times of the day. Of course, there arfe plenty of things to do in the Bay of Islands, both on and off the water. On our last visit, we took a ferry over to Russell where I captured this image whilst waiting for the return ferry.
Waipu Cove
The clouds formed by the impending rain made for a lovely sunset. This one from a campsite in Waipu Cove, several hours north of Auckland.
Auckland region
Sunset seem so different depending on which part of Auckland you are in. Here are some of our favourites: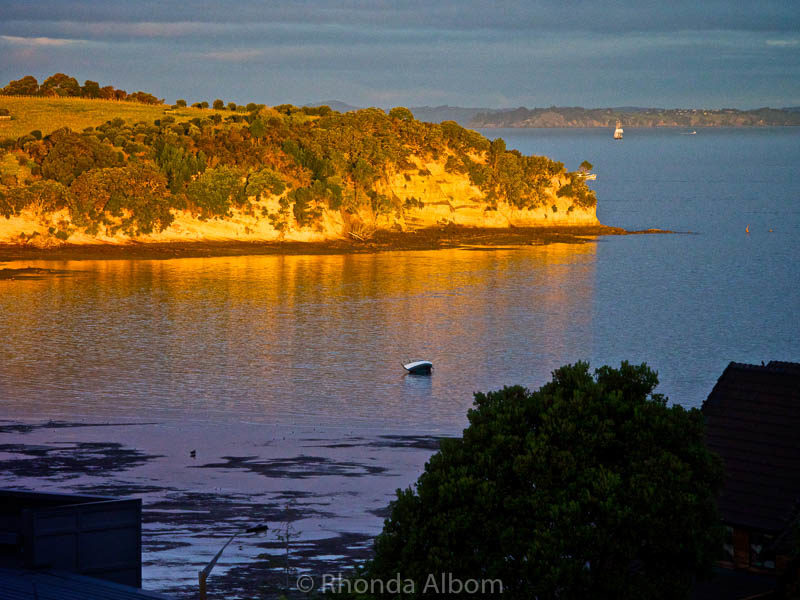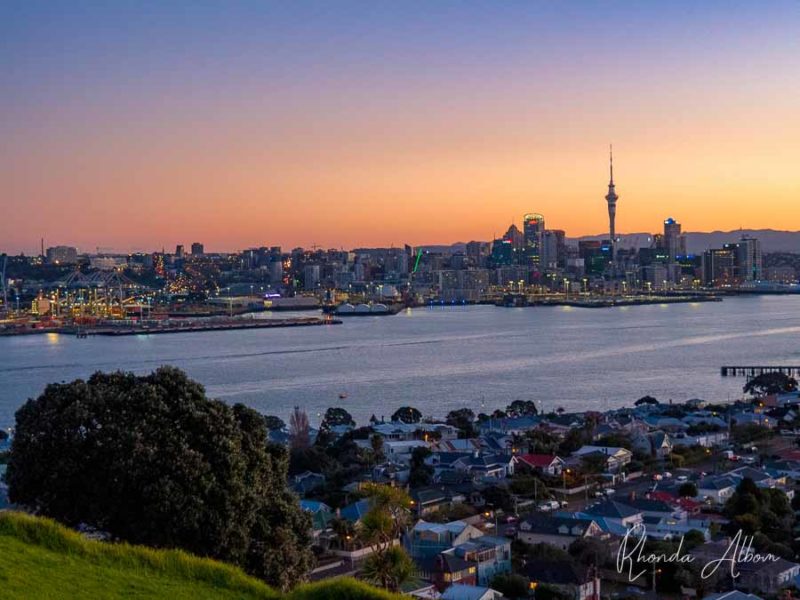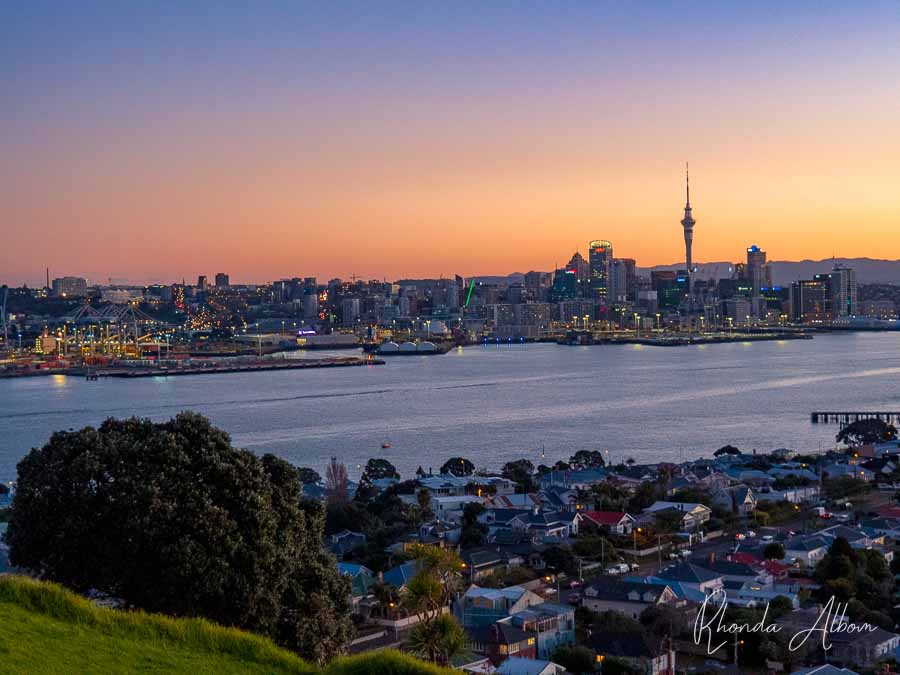 South Island NZ sunsets
Hokitika Beach
Some say the country's most vivid sunsets are found on Hokitika beach. We know we were not disappointed. And, there was plenty to do in Hokitika during the days.
My camera information
My current camera is an Olympus OMD Em5 Mark II. Many of these images are from several years ago shot on other gear.
All yacht racing photos were shot on my iPhone, often just after we crossed the finish line.
Booking tips for New Zealand travel planning
We often have affiliate partnerships with companies that we trust and recommend. We receive a small compensation if you make a purchase using these links. In some cases, the links can save you up to 70%.
First-time visitors start here: New Zealand travel guide or with our favourite New Zealand road trips.

Flights: We use Skyscanner to find all the available flight options at the best prices.

Rental Vehicles: For cars, we always use RentalCars.com, a rental car search engine with no hidden costs. For campervans (and larger cars), note that Spaceships Rentals NZ offers free one-way drop-off between Auckland and Christchurch.
**Albom Adventures readers can check for discounts off Spaceships campervans.**

Accommodations: We use Tripadvisor to find ratings and reserve accommodations in most NZ cities.

Activity Discounts: We use Bookme.co.nz to find discounts on entry tickets and tours in New Zealand.

Travel Insurance: We purchase insurance that covers medical and travel emergencies when we head overseas. We start with Travel Insurance Master, an aggregator that gives us a free and easy-to-read comparison of the inclusions of each policy.

Packing Tips: Get a free copy of our New Zealand packing list when you sign up for our mailing list.

**Find more money-saving resources on our Travel Resources page.
Save for later
If you enjoyed these sunsets, please share them on your favourite social media including Pinterest:
Do you prefer to watch the sunset from the beach, a boat, or from indoors?