The Medina of Essaouira Morocco (a UNESCO World Heritage Site) offers all of the traditional images one would expect in this North African country. A "medina" is the Arab or non-European quarter of North African cities. It is typically a fortified walled city with narrow and maze-like streets.  I found the Medina of Essaouira easier to navigate and to shop as we were hassled less than the bigger cities of Marrakesh, Casablanca or Fes.
Essaouira is a town off the beaten track. It's just under 200 km to the west of Marrakesh, along the Atlantic coast. Essaouira is well known to musicians and watersport enthusiasts.  The annual Gnaoua World Music Festival kicks off summer with a style of music rooted in traditional North African culture and best defined as a fusion of jazz, soul, rock, pop and contemporary world music. The windy beach attracts water sports enthusiasts, and throughout summer numerous windsurfing and surf competitions take place.
Today it is the Medina of Essaouira that we want to explore:
Tips for visiting the Essaouira Medina:
If you drive, remember the cost of parking is negotiable.
The best stop to see spectacular sunsets is along the coastal wall of the Medina of Essaouira.
Bring a jacket for the evenings. The temperature often cools down quite a bit.
Eat or just have a cup of tea at Cafe Des Arts.  Find it on the main road of the Medina, up two flights of stairs.  We had a great meal and lively music.  It is a small place.
Stay in the Medina. We loved our choice of accommodation and recommend Riad Watier, and more specifically the Lakhdar Family Suite.
→ Check for availability and current prices at Booking.com.
Have you been to the Medina of Essaouira? Do the photos match your expectations of a Moroccan city?
If you enjoyed this post, please pin it on Pinterest: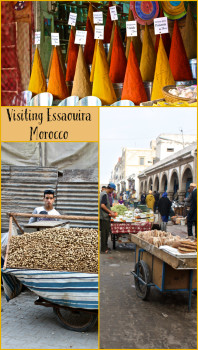 Here's the secret to packing light:
Download our free packing light checklist when you sign up for our newsletter.