The Medina of Essaouira Morocco offers all of the traditional images one would expect in this North African country. A "medina" is the Arab or non-European quarter of North African cities. It is typically a fortified walled city with narrow and maze-like streets. I found the Medina of Essaouira easier to navigate and to shop as we were hassled less than the bigger cities of Marrakesh, Casablanca or Fes.
Essaouira is a town off the main tourist track. It's just under 200 km to the west of Marrakesh along the Atlantic coast. Musicians and watersport enthusiasts flock to Essaouira. The annual Gnaoua World Music Festival kicks off summer with a style of music rooted in traditional North African culture and best defined as a fusion of jazz, soul, rock, pop and contemporary world music. The windy beach attracts water sports enthusiasts, and throughout summer numerous windsurfing and surf competitions take place.
Today it is the Medina of Essaouira that we want to explore. Essaouira is the first stop on the driving portion of our Moroccan road trip.
Note: Based on world conditions, we advise checking official channels including cancellation policies prior to booking. Also, with often reduced capacity, booking ahead becomes more important.
Medina of Essaouira: Photo Essay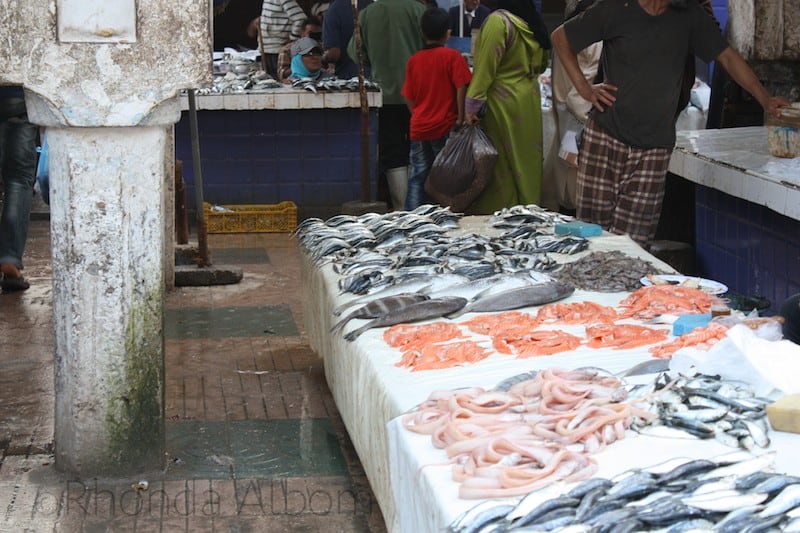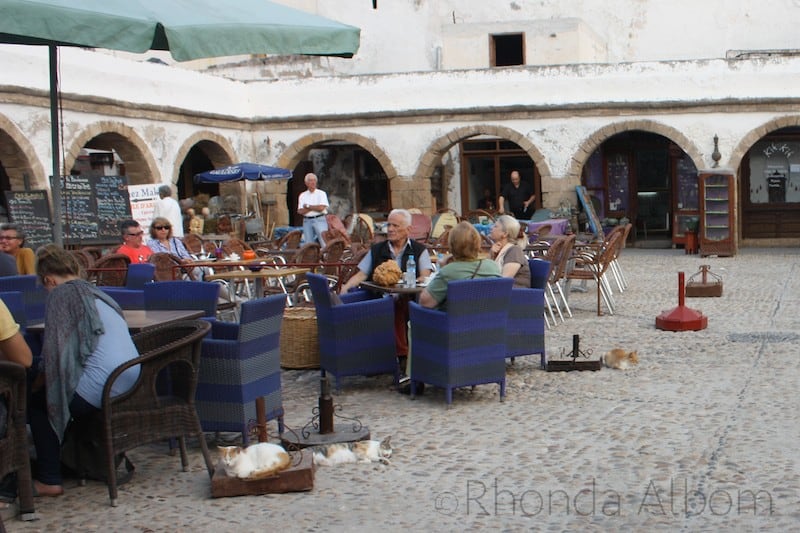 Take a Tour in Essaouira
Tips for Visiting the Essaouira Medina:
If you drive, remember the cost of parking is negotiable.
The best stop to see spectacular sunsets is along the coastal wall of the Medina of Essaouira.
Bring a jacket for the evenings. The temperature often cools down quite a bit.
Eat or just have a cup of tea at Cafe Des Arts. Find it on the main road of the Medina, up two flights of stairs. We had a great meal and lively music. It is a small place.
If you like to stay in self-contained accommodation and are happy to arrive without knowing where you will stay, the people standing on the side of the road as you enter town waving keys are offering an apartment for rent.
Essaouira Beach is the place to try out a new watersport. Our girls chose to try surfing in Essaouira. What will you try?
The Medina of Essaouira Morocco is a UNESCO World Heritage Site.
Stay in the Essaouira Medina:
I love to stay in the old medinas in Morocco, and we tried to make an exception here staying just outside the Medina of Essaouira the first night. After that, we went on a hunt for better accommodation. We were lucky to be off peak season, and therefore had lots of choices. After looking at several rooms in various riads, we were delighted when we walked into Riad Watier. Our room, the Lakhdar Family Suite, had two bedrooms including a loft and perfect or a family with two teens. And, attention was paid to every detail of the Moorish decor, our host was like a helpful friend, and the food was outstanding. Breakfast was so good, we opted to have dinner here as well.
⇒ Check for availability and current prices or Riad Watier
Have you been to the Medina of Essaouira? Do the photos match your expectations of a Moroccan city?
If you enjoyed this post, please pin it on Pinterest: