Spotting wild monkeys always makes us smile when we travel. My first encounter was long before I met hubby. We were drifting down the Belize River at dusk when my friend's father pointed out the howler monkeys up in the trees. This was in the days before I had a digital camera, and the photos are filed away right now.
It was only a couple of years ago we came upon macaque for the first time. It was early on our family trip around the world. The beautiful macaque roam all around the Batu Caves just outside Kuala Lumpur, Malaysia. Ben, our Malaysia guide, explained that monkeys are protected here. While they roam amongst the people, they are still wild animals. It's not uncommon for tourists using poor judgement to feed these monkeys or worse try to pose with them for photos, only to end up bit or scratched.
Aside from humans the macaques are the most widespread primate genus, ranging from Japan to Afghanistan, with one species, the barbary macaque also found in North Africa and Southern Europe. We first saw the barbary macaque near the Cascade D'Ouzoud, a stunning 3 drop waterfall in the Atlas mountains of Morocco (about a 3 hour drive from Marrakesh). We didn't initially recognize it as being the same genus of monkey, as they have only a vestigial tail. Because of this, they are often mistaken for and called apes, but they are macaques, a monkey.
These Barbary macaques are probably best known from the Rock of Gibraltar (we didn't go there).
Have you seen macaque or any wild monkeys? Have you travelled to either Malaysia or Morocco?
Like this article? Please pin it on Pinterest: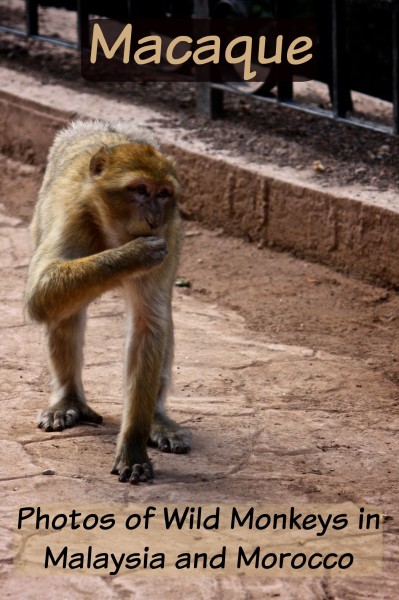 Here's the secret to packing light:
Download our free packing light checklist when you sign up for our newsletter.