Spotting wild monkeys always makes us smile when we travel. My first encounter was long before I met hubby. We were drifting down the Belize River at dusk when my friend's father pointed out the howler monkeys up in the trees. This was in the days before I had a digital camera, and the photos are filed away right now.
It was only a couple of years ago we came upon macaque for the first time. It was early on our family trip around the world. The beautiful macaque roam all around the Batu Caves just outside Kuala Lumpur, Malaysia. Ben, our Malaysia guide, explained that monkeys are protected here. While they roam amongst the people, they are still wild animals. It's not uncommon for tourists using poor judgement to feed these monkeys or worse try to pose with them for a photos, only to end up bit or scratched.
Aside from humans the macaques are the most widespread primate genus, ranging from Japan to Afghanistan, with one species, the barbary macaque also found in North Africa and Southern Europe. We first saw the barbary macaque near the Cascade D'Ouzoud, a stunning 3 drop waterfall in the Atlas mountains of Morocco (about a 3 hour drive from Marrakesh). We didn't initially recognize it as being the same genus of monkey, as they have only a vestigial tail. Because of this, they are often mistaken for and called apes, but they are macaques, a monkey.
These barbary macaque are probably best known from the Rock of Gibraltar (we didn't go there).
Health Watch

And in other news: I am currently doing only domestic (New Zealand) travel while I get the intracranial hypertension under control. My goal is fitness through weight loss and walking (the only exercise they allow) as there is small chance that if I loose enough weight I can put it into remission. Each weekend I share my weekly progress:
Steps Last 7 Days: 81,067
Total Steps (since 6 June when I got my Fitbit):
497,339
Total Weight Loss (since 13 May): 10.4 kg (23 lbs)
I am over two months caffeine free and sugar free.

Have you seen macaque or any wild monkeys? Have you traveled to either Malaysia or Morocco?
This post is shared for:
Weekend Travel Inspiration is co-hosted by: me (Albom Adventures), Reflections Enroute, TheCrowdedPlanet, ContentedTraveller, Safari254, Families Go! and Malaysian Meanders. Don't miss our new Weekend Travel Inspiration Facebook Page.

Ready, set, link!
1. Link one of your inspirational travel photos or stories to this post by adding your info.
2. Copy and paste our badge and a link to this page.
3. Visit some of the other wonderful travel bloggers, read their posts, and leave a comment. It would be great if you could comment on 2-3 posts.
4. Tweet it and include this hashtag. #wkendtravelinspiration.
5. Follow all the hosts of Weekend Travel Inspiration who are working hard to spread the word on what wonderful work travel bloggers are doing.
Loading InLinkz ...
Like this article? Please pin it: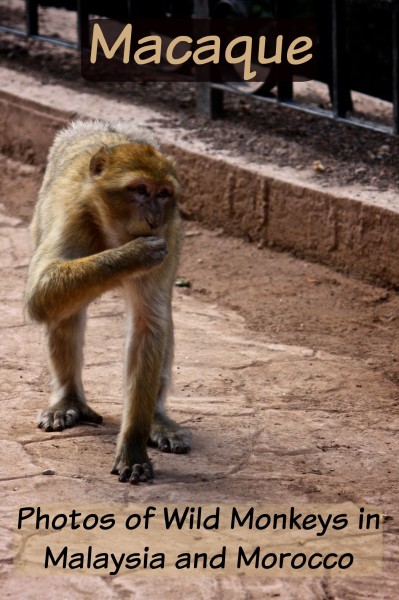 This post also linked to Travel Photo Mondays at Travel Photo Discoveries and Weekend Wanderlust at Justin plus Lauren.
Seven ridiculously simple tips that WILL improve your photos
Whether you shoot with a phone or a DSLR, let me share my secrets.
Subscribe to Albom Adventure's Travel Tips newsletter and download our free ebook: Take Better Travel Photos By Rhonda Albom