I am so happy!  I went sailing last night.  I joined a crew for ladies yacht racing and we took 3rd.
Every second Wednesday is Ladies Yacht Racing at twilight.  I am not officially on a crew this season as we were not scheduled to be back in NZ yet.  But lucky for me, someone was sick from my old crew and I got to race. (sorry for my apparent lack of compassion, she is only a little sick, so no worries).
Check out this photo finish behind us for position 4 and 5.
We race round the buoys, so normally we are kept busy all the time.
This race was interesting.  The weather forecast was good, with relatively light winds of 5-10 knots.
The reality was barely any wind at all, only crossing 5 knots for a few short gusts.  This is not what you want for a yacht race.
It was so light at times, that I could actually take photos.
And pose.
Here we are trying to look busy.
The first two yachts rounded the final buoy heading to the finish, just before the wind completely died off. This left the rest of the ladies yacht racing fleet floating around to use all our skills to keep moving forward when the wind instruments read this:
If you don't know how to interpret this: 0.7 is the speed in knots (close to miles per hour) that we are progressing in the water factoring in the tide, while 0.8 is the actual boat speed if we didn't have tides which were barely impacting at the time of our sail. The wind speed (which would be 12-15 on my definition of a perfect sailing night) was only 2.8.  The rest of the numbers are not really relevant to my story.
Finally, the wind came back up, and we were able to cross the finish line.
I had almost forgotten how much I love sailing.
Twilight racing is so beautiful. Here is my favorite sunset photo of the night: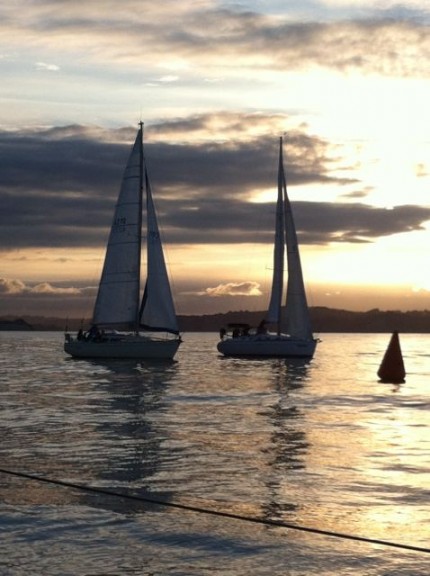 All Photos ©Rhonda Albom 2012
As for Thanksgiving – It's nearly summer in New Zealand and we don't celebrate Thanksgiving.
The first year we were here we decided to host our own and invite another family. All was going great until we tried to buy a turkey – $85 and no leftovers. We labeled it an expat tax, as only American's buy turkey in November.
Do you sail? Would you crew on an all ladies yacht racing team?