Seattle Washington's Kimpton Hotel Monaco is boutique luxury that feels like home. It's a Kimpton property with the extras that one desires, surrounded by a non-pretentious atmosphere that's upscale and friendly.
Perfection started right from the first moment we arrived at Kimpton Monaco Seattle. The valet, doorman, and reception all greeted us like friends returning. The lobby is a masterpiece; the rooms are fun and funky. Everything about Kimpton Hotel Monaco Seattle whispers that we are in one of the best hotels in Seattle.
⇒ Click here to check availability at Kimpton Hotel Monaco Seattle
Welcoming atmosphere at Kimpton Hotel Monaco Seattle
Some of that magic is visual. The lobby is an eclectic mix of stylish and comfortable furniture, high ceilings, and sparkling chandeliers. It's a coming together of all things a traveller wants. It's a relaxed, inviting room welcoming everyone after a long day enjoying Seattle.
Luxurious, yet relaxed rooms
Did I mention our room? Maybe it felt like home because the bed was so comfortable. Sinking in just the right amount, I knew that sleep would come easily, and it did. We awoke to a beautiful day. Using the yoga mat in the closet might have been the perfect way to wake up, but I opted instead to drape myself in the snuggly animal-print robe that hung by its side. Hubby popped a pod into the Keurig and my morning started with a piping hot coffee while still in the luxury of my own room.
Pet-friendly or not (Yes there are allergy free rooms)
Like all Kimpton properties, Hotel Monaco is pet-friendly to the extreme, providing pet beds, toys and more. In contrast, they also have pet-free rooms and floors (actually only 4 floors allow pets). If you don't bring a pet, you can request a companion goldfish that will reside in your room during your stay while being cared for by Kimpton staff.
We did question the big fish in the little bowl. For starters, Randy (our fish has a name), looks larger in the photo than he does if you look straight down into the bowl. Secondly, Randy is professionally cared for, and finally, the fish rotate, therefore spending most of their lives in a huge tank with their fish friends. Kimpton is well known for its love of all animals, and we were effectively reassured that this includes the care of their goldfish.
⇒ Click here to check availability at Kimpton Hotel Monaco Seattle
The extras that make Kimpton Hotel Monaco even better
This Kimpton Seattle accommodation is a boutique hotel that doesn't miss a beat. From the little details like full-size bottles of shampoo and moisturizer in the bathroom to its eco-friendly attitude, Hotel Monaco kept us happy.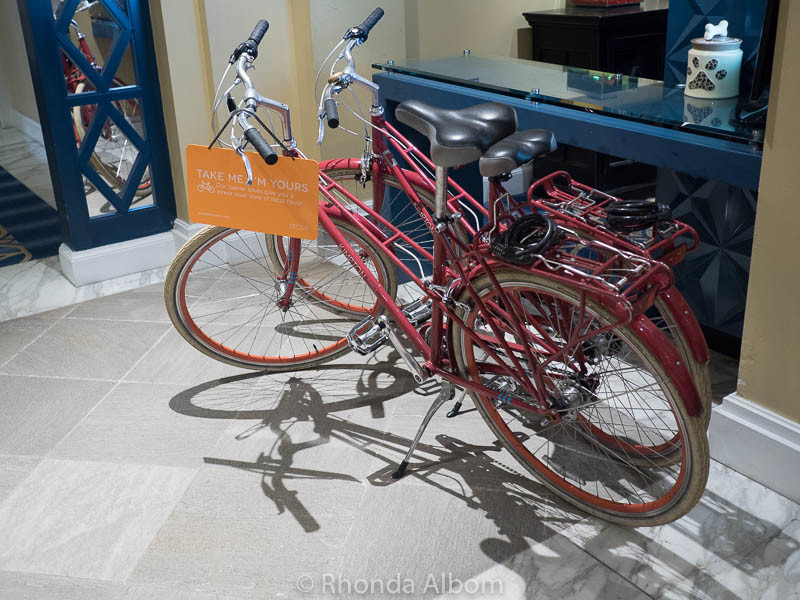 Evening social hour and wine tasting
Every evening at 5 pm the lobby converts to the "place to be." The hour-long reception offers hotel guests complimentary local wines, beers, and non-alcoholic options. Some evenings the drinks are complemented by hors d'oeuvres, other nights there was live music. Whichever the case, it is a coming together for friends, new and old. A positive, friendly atmosphere welcoming all guests.
Delicious Dining at Hotel Monaco in Outlier
Outlier, the attached restaurant, is known for great dinners, pizzas, and desserts. It's new since we stayed at this Seattle Kimpton hotel, but I have seen the reviews and the menu. Good news for me, they still offer my favourite breakfast.
Some of the Best Seattle Activities
At some point, you will want to branch outside and visit Seattle. There are plenty of great must do in Seattle activities. If you are going to be in the city for a couple of days or longer, the Seattle CityPass is the perfect way to save some money on the key sites. Despite skipping one of the key venues, we still saved a ton of money and got to see some wonderful places that might have otherwise been missed like the Seattle Aquarium and the EMP museum, as well as our top picks of the Seattle Space Needle and Chihuly Garden and Glass.


Hotel Monaco Seattle Parking
Located in the heart of downtown, parking in the neighbourhood isn't easy to come by. Hotel Monaco offers valet parking. It's a bit pricey, but on par with the neighbourhood. As part of their environmental programme, a visitor arriving in a hybrid vehicle pays half price for the valet parking.
Of course, if you are a visitor to the city, you really don't need a car.
Practical Information on Hotel Monaco Seattle Washington
Located at 1101 Fourth Ave in the heart of downtown Seattle, Hotel Monaco is in a great location for visiting most key sights.
Be sure to join the (free) IHG rewards club. Back when I joined it was the Kimpton Karma Club and membership gave us free internet, accumulating points towards free nights, and we can raid the mini bar to the tune of $10.
Before visiting the Space Needle, glass museum, or the EMP Museum, ask for complimentary monorail passes.
The lower level hosts a fitness, business, and conference centre.
For more information visit Hotel Monaco's official website here.
Stay at Kimpton Hotel Monaco Seattle
I know it sounds cliche, but it's true; from the moment I stepped into Hotel Monaco I understood the Kimpton difference. We now try to stay at Kimpton properties whenever we travel in the USA. If you are headed to Seattle, this is the place to be. It's definitely one of the cool places to stay in Seattle.
⇒ Click here to check availability at Kimpton Hotel Monaco Seattle
Please Share
If you enjoyed this review of Hotel Monaco in Seattle, please share it on social media including Pinterest:

Will you stay at Hotel Monaco on your next visit to Seattle? Have you been to a Kimpton property in the past?
Disclaimer: As media guests of the hotel we were provided with a few extra benefits. However, the opinions expressed here are strictly my own.