K is for kaka.
Practical Information: 
The kākā is a large forest parrot found on the North Island, South Island and Stewart Island.  With between 1,000 and 5,000 remaining, they are considered nationally vulnerable.
Generally considered diurnal, they are also active in a full moon or on fine weather evenings.
Often heard before they are seen, they make a rather screechy sound which you can hear here.
Have you seen a kaka before today? 
Please share this on social media, including Pinterest: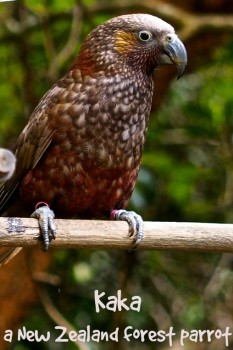 Seven ridiculously simple tips that WILL improve your photos
Whether you shoot with a phone or a DSLR, let me share my secrets.
Subscribe to Albom Adventure's Travel Tips newsletter and download our free ebook: Take Better Travel Photos By Rhonda Albom