I am pretty sure I have passed the days when you would find me jumping into Haruru Falls!
To be honest, I no longer jump out of trees into any body of water, but certainly not one that is swirling and cold. Don't worry, I am not retiring from adventure.  Travel still tops my list of things to do, and swimming is fine but these days I prefer to leap off a yacht than out of a tree.
It's easy to see that my niece shares my adventurous spirit.  Or should I say, it is great having her around, so now I can live vicariously through her?  I no longer have to take the leap, as my old, heavier body just doesn't withstand the type of fun it used to.  Now, I can simply be the travel photographer and capture the moments with a smile.
Although, 30 years ago it probably would have been me . . .
Here is Haruru Falls (It is just North of Paihia in the Bay of Islands, New Zealand):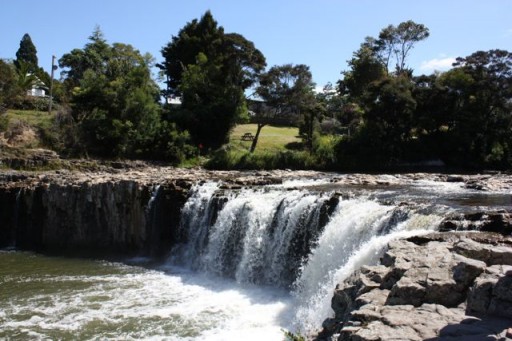 Actually, we did a small hike to get here so our first view was a bit hidden behind a tree.
It was a rather large tree (not in comparison to Tane Mahutu, the Lord of the Forest, but certainly a strong tree).  We watched two boys leap off, jumping into Haruru Falls, or more specifically what I am sure was quite cold water swirling in the foreground.
Naturally, the temptation to follow was there. After confirming the boys were, in fact, locals and they knew that it was safe, my niece took the plunge.  (We had planned for a swim later in the day, so she was prepared).
Jumping Into Haruru Falls
Go Girl!
We stopped and visited nearby Rainbow Falls waterfall, but there was nowhere to jump.
With our girls in school, we can't go travelling around the world, but we can spend some time travelling in New Zealand. We are on our way to the top of the North Island making lots of stops along the way. We have a favourite 4-5 day far north driving itinerary.
Will we see you jumping into Haruru Falls?