A change in the plan and we are now in Inverness a city in the Scottish Highlands, much farther north than we ever imagined we would be whilst still in the UK.  We are getting close to both the summer solstice and to the arctic circle, so the days are getting longer. The weather is unseasonably fantastic. We are quite lucky to  have warm days and cool evenings.
Another town best explored with photos: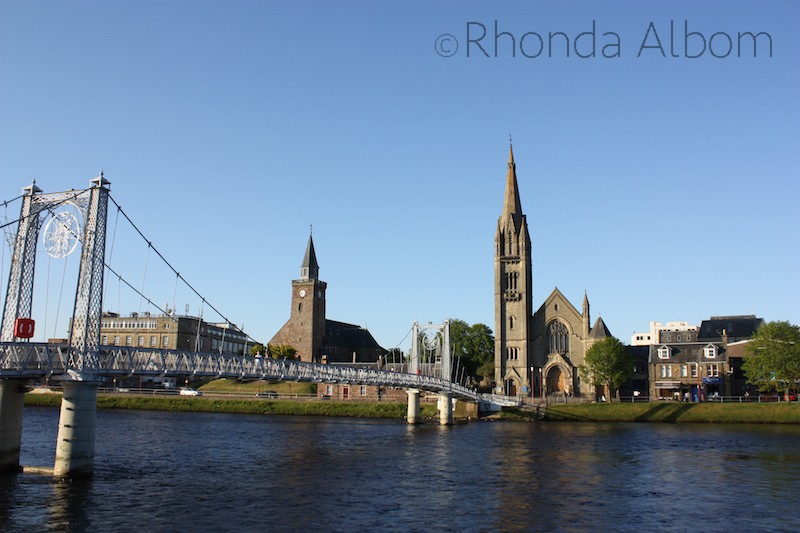 Aside from being a beautiful and fun city, we used Inverness as a base for exploring the Scottish Highlands.  We missed the Hogwarts Express, but we did get to see Dunrobin Castle and the Falls of Shin.
Travel Tips
We loved Hootanany, a local pub featuring Scottish food and Scottish music.  Honestly, I am not sure if it was the food, the friendly atmosphere of shared big tables, or the music, but this is one of my favorite nights of travel so far. At 9.30 the Scottish band The Invers started to play, and I am pretty sure we were supposed to have left by this time as we had our girls with us.  However, no one said anything to us, so we just enjoyed the music. Check it out: YouTube video of Invers at Hootanany.  We stayed until about 10.45 when they took a break, and we were surprised it was still light outside as we walked home. I was also surprised when I woke up at about 4am as the light was returning to the sky.

We carried

Lonely Planet Great Britain

, however if we were only visiting Scotland we would have used

Lonely Planet Scotland

.
Have you been to the Scottish Highlands? Have you visited Inverness?