Seeing Shakespeare performed live at London's Globe Theatre will remain on my bucket list a bit longer. We were last in London in May of 2012, just a few months before the London Olympics were to begin. The Globe was in the middle of a series of 37 performances all from visiting troupes in their own language in honour of the upcoming Games. None were in English.
The choice between Henry the VIII in a language we didn't understand, or a tour was easy. However, our lack of planning failed us a second time, as there were no more spots available on the day.  At least we had enjoyed our walk to the Globe Theatre along the River Thames enough that we didn't mind returning the next day in what turned out to be better weather.  Across the river was St. Paul's Cathedral and the bridge to cross over was used in one of the Harry Potter movies.
Our tour started with free time to roam the Exhibition Hall and learn more about the man, his time in London and the theatre, including some of the costumes:
Then we joined our colourful guide and went into the open air theatre, where they were setting the stage for the afternoon's performance.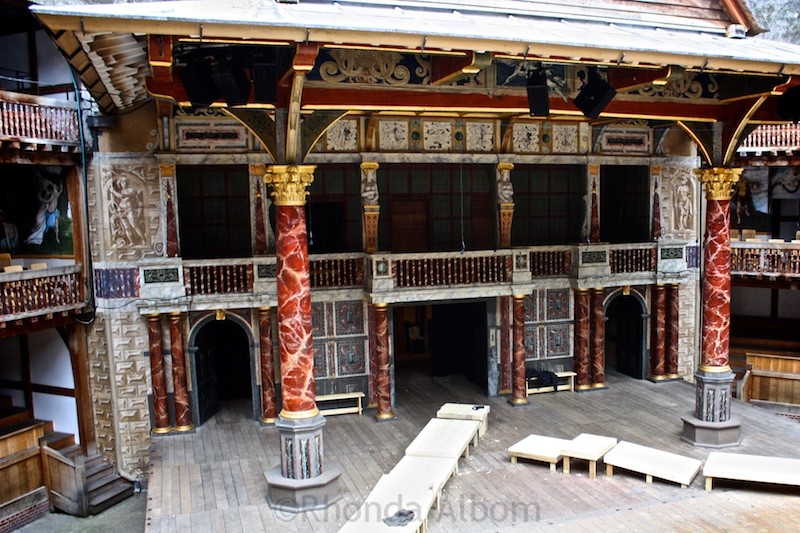 The theatre history came alive with the over-acted presentation by our guide.  She explained that original Globe Theatre built in 1599 burnt to the ground in 1613.  The second build was completed a year later but destroyed in 1644.  The current theatre design is a best effort to replicate that original Elizabethan open-air playhouse. It opened to the public in 1977 under the name Shakespeare's Globe Theatre. Of course, all of this building history wasn't what my teens found most interesting.  They were most amused by the guide's "stinky" stories of the lack of toilets and buckets, and of course, garlic as that was the preventive for the plague.
A closer look at some of the box seats, and you can see modern comfort outweighed a replica.
Travel Tips for the Globe Theatre:
If you enjoyed this post, please pin:
Have you been to Shakespeare's Globe Theatre? Were you lucky enough to see a live performance?
For Clarification: I often write about a park in New Zealand called Shakespear, and the adorable lambs we see there.  This park was a gift to New Zealand from the New Zealand Shakespear family, not a typo. They are not related to William Shakespeare, whose work was performed at the Globe in London, although his home and grave site are in Stratford-Upon-Avon.
Seven ridiculously simple tips that WILL improve your photos
Whether you shoot with a phone or a DSLR, let me share my secrets.
Subscribe to Albom Adventure's Travel Tips newsletter and download our free ebook: Take Better Travel Photos By Rhonda Albom