Walking on Fox Glacier on the South Island of New Zealand is possibly the best thing I have done in the cold.
We took a helicopter tour out of the Fox Glacier township, opting to land and walk on the Fox Glacier.
The photos don't do it justice as it is difficult to capture the vastness, incredible beauty and complete quiet.
Back up in the air, we more of the glaciers as we fly back to base:
We visited here as part of our driving adventure along the west coast of New Zealand's South Island.  While in the air we also saw Mount Cook, New Zealand's tallest mountain. These two glaciers lie north of the swamp forest at Ship Creek and Monro Beach (where we saw the Fiordland Crested Penguins), and south of the Hokitika gorge.
A Bit About Franz Josef and Fox Glacier:
A glacier is a river of ice that is slowly moving downhill. It is formed by the accumulation and compaction of snow on mountains or near the poles. The ice-flow in parts of Fox Glacier moves at up to 3 meters per day.
Fox Glacier is located in the Westland Tai Poutini National Park. It is just outside of the Te Wahipounamu park, a nearby UNESCO World Heritage site.
Fox Glacier is fed by four alpine glaciers, overflows into the Fox River and travels into lush rainforest. It ends only 300 meters from the sea.
Amongst the 3000+ glaciers in New Zealand, Franz Josef is one of the few to be still growing.
Franz Josef Glacier is 12 km long and descends from the Southern Alps to 19 km from the Tasman Sea.
Franz Josef Glacier got its name from Emperor Franz Joseph I of Austria. Fox Glacier is named for former NZ Prime Minister Sir William Fox who visited in 1872.
Have you walked on a glacier? Did you know there are so many glaciers in New Zealand?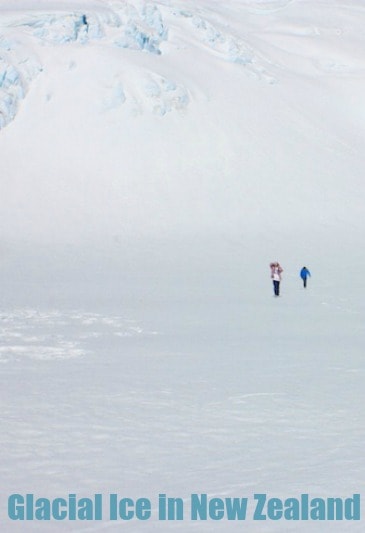 Here's the secret to packing light:
Download our free packing light checklist when you sign up for our newsletter.