D is for dunes . . .  Or daredevil.
Practical Information: 
Great for sand surfing, which is free if you have your own board. If not, don't worry, you can hire one there for only $15.
The giant sand dunes at Te Paki are located on the western side of the narrow peninsula, about 17 km from Cape Reinga (the lighthouse at the top of the island). The turn off is well sign posted.
The general advice is to be sure to lock your car here.
In unrelated news: Happy Birthday to Sarah, who celebrates her 16th birthday today in Argentina as part of a year-long AFS student exchange program. We miss you and hope you are having a perfect day. 
Have you seen giant sand dunes? Have you been to Te Paki?
Please share this on social media, including Pinterest: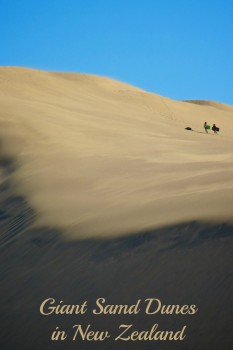 Seven ridiculously simple tips that WILL improve your photos
Whether you shoot with a phone or a DSLR, let me share my secrets.
Subscribe to Albom Adventure's Travel Tips newsletter and download our free ebook: Take Better Travel Photos By Rhonda Albom