Out of the corner of my eye I see little balls of fluff bouncing and hovering across the beach. These baby dotterels stop to forage for food. Camera in hand, I attempt to focus on one of the endangered chicks although its camouflage makes it challenging. As a result of this lack of contrast, I would imagine these birds to be somewhat safe from predators. However, talking to the park ranger, it is evident why these endemic birds are endangered. They are not very bright. They nest too close to the sea, lay their eggs on the sand where children play, and the chicks scurry about in the open. Furthermore, their greatest danger is humans encroaching on their habitat.
Shop related products on Amazon
‹
›
The sign reads: I Need My Space!
I am an endangered New Zealand dotterel.
Please give me space
My eggs and chicks are easily harmed
Keep away from fenced areas
Please don't linger.
Here are two other dotterel photos I shot in New Zealand. The first in the far north and the second at the Auckland Zoo.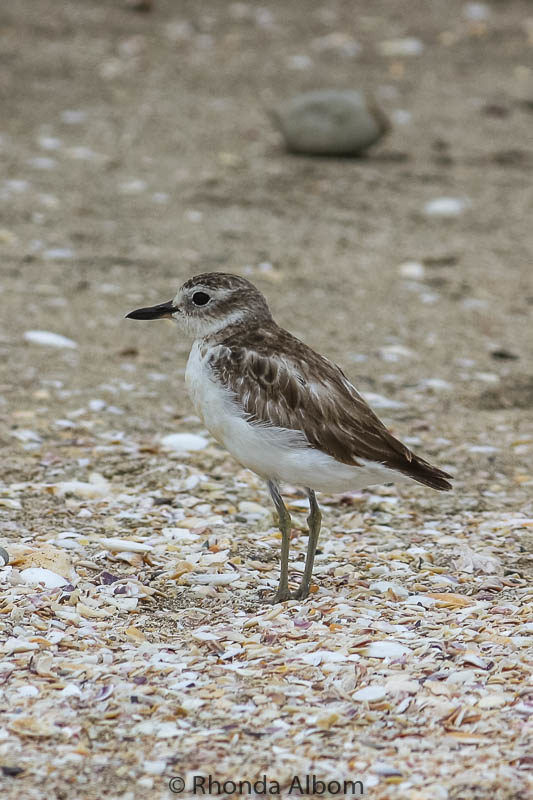 More about New Zealand dotterels:
New Zealand dotterels breed in spring. You can sometimes spot them on sandy beaches, sand spits, and tidal estuaries on the North Island. If you do, give them their space. I used an Olympus OMD Em5 Mark II with a zoom lens and kept my distance for all the shots above.
They are plovers that grow to only 25 cm (less than 10 inches) in height.
Only about 1,700 dotterels remain (estimated).
The Māori name is "tuturiwhatu".
Check out the Department of Conservation's official website for more information on these birds.
Have you seen dotterels on your local beach? Or, if you live outside of New Zealand, have you seen other endangered birds on your beaches?
If you enjoyed this article, please share it on social media including Pinterest:
Grammarly proofread this post. (Try it for free)