Are you wondering, what is a donkey parking lot? It's exactly what it sounds like, it's where you park your donkey. Really, in the Moroccan town of Rissani, near the Algerian border, people often travel to the weekly market via donkey. For those that do, this donkey lot where they leave their animals tied up with some food and water while they do their shopping.
We also saw this donkey tied up "parked" along the side of the road, at a stand selling gourds. Here we had both car and animal parked together.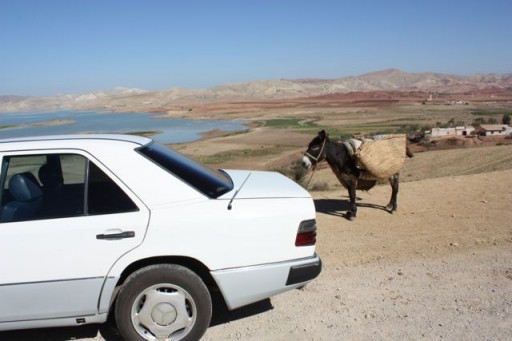 All photos ©Rhonda Albom 2012
We carry the Lonely Planet Morocco guide book.
Have you seen a donkey parking lot before today?
This post submitted for Wordless Wednesday. 
Seven ridiculously simple tips that WILL improve your photos
Whether you shoot with a phone or a DSLR, let me share my secrets.
Subscribe to Albom Adventure's Travel Tips newsletter and download our free ebook: Take Better Travel Photos By Rhonda Albom