Today we did some cooking with a Berber family. It amazes me how hard the "simple life" really is.
We are staying in a most wonderful guest house in Tisselday, a small town between Ouarzaruate where they make most of the movies filmed in Morocco and Marrakesh.
Our New Zealand neighbors had stayed here last year and recommended it, mentioning that they had made bread with the women on the floor.
This image of preparing food on the floor had stayed in my head for quite a while and I will admit that I was a bit leery to spend time cooking with this Berber family, yet on the flip side I didn't want to miss what had been described as such an awesome experience.
Cooking with a Berber family actually lived up to the hype.  We were made to feel as though we are part of the family.  The women sat with us on the floor and we made bread.
I am please to report, there was a large bowl and a special pad involved – so "on the floor" didn't mean the food and our shoes touched the same surface.
The process involved mixing, kneading, rising, kneading, raising, shaping, stacking and then we carry it out to the wood fired oven, which is heated and the bread is then placed directly on the coals.  If you are wondering, it was the best bread we have ever eaten.
Here we are waiting for the coals to get hot enough:
Next we learned how to make the tagine, the salad and the desert.  The Berber women don't use a cutting board, but rather cut all the vegetables in their hands.  She was so fast, and we were cautious and slow – and successful, no cut fingers.  An hour or so of cooking and we had a fantastic dinner.
Here is our girls and the family (minus the kids):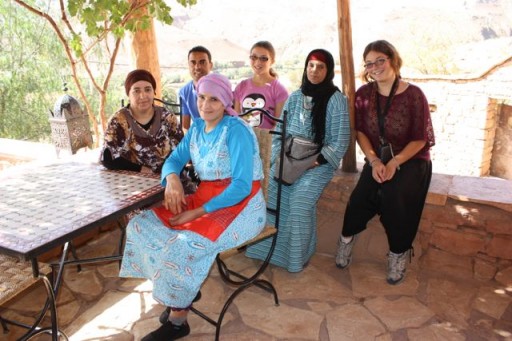 While we waited for the food to cook, one of the men took us across the street to see the minerals gathered from the nearby hills.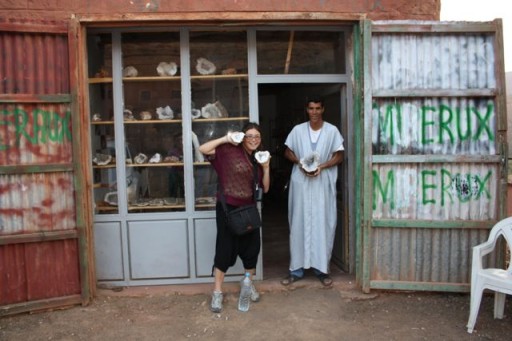 All photos ©Rhonda Albom 2012
We loved cooking with a Berber family. Would you have given it a try?
Related Links:
Seven ridiculously simple tips that WILL improve your photos
Whether you shoot with a phone or a DSLR, let me share my secrets.
Subscribe to Albom Adventure's Travel Tips newsletter and download our free ebook: Take Better Travel Photos By Rhonda Albom