Casablanca Morocco. I had visions of such a city and they didn't match my reality. It is the final stop on our 250 day adventure around the world. Tomorrow we head home. It's a long day . . . 8 hours Casablanca to Dubai, 9 hour layover, and then 18 hours home including a quick landing in Melbourne, Australia.
So, why not enjoy Casablanca for a day before we go. We tried, but we are tired. Some of the city is fascinating, but a few incidents overshadowed the romance of the city.
The birds are pretty cool:
Actually, they were more interesting if you approached that fenced area in the center:
The mosque is amazing:
The shopping mall is so modern it is surreal. We could easily forget you are in Africa, forget we are in a Muslim country, and even forget we have left home (although in our case the Casablanca mall was bigger and brighter than the malls in New Zealand).
What annoyed us most about Casablanca was the filth and the cab drivers we encountered. Similar to our experiences two other Moroccan cities (Meknes, and Fes), the Petite Taxis take only three persons so we need to get two taxis. The hotel arranged for the cabs and negotiated. It was agreed that we would pay the meter price plus 15 dirhams to stop at the Mosque.
From the mosque we could see the mall. A straight line along the coast.
We knew something was up when the two taxis, while driving, pulled next to each other and the drivers had a chat in Arabic. Then we turned off the main road. We saw this: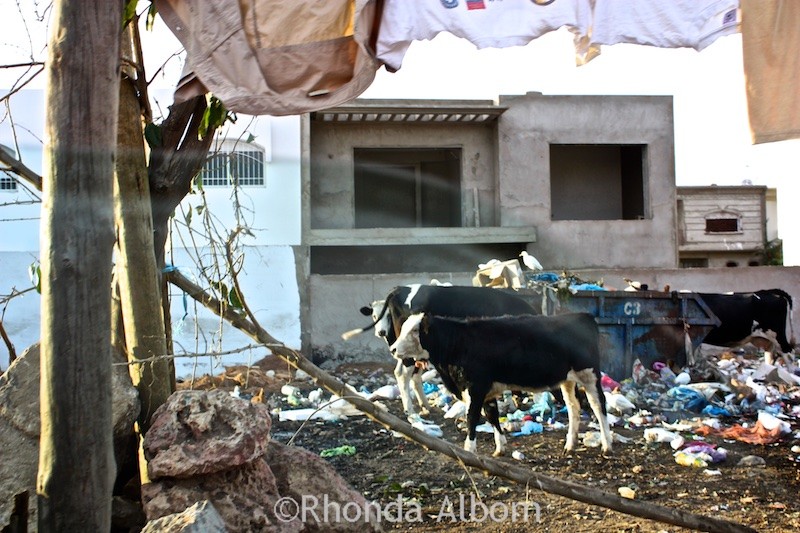 The poor cows, along with people, live amongst all this rubbish.
Finally we got to the mall, the meter read 50 dh and I produced that amount. Rather than accepting itour driver said no, it's 120 durham. I don't think so. Just then hubby sticks his head in our window to say his meter says the same, 50dh and his driver also wants 120dh.
We have been here long enough to be really tired of the unofficial "tourist tax" added to things, so while hubby and the drivers were discussing this, I simply said,
"There's a policeman over there, I am going to ask him."
As expected, the policeman told us we only have to pay the meter price.
The driver was angrily shouting after us, "Don't call green taxi again" As if we would.
FYI, this didn't turn our view, I still love Morocco and will miss it. We probably should have used our Lonely Planet Morocco book that got us through the rest of the country.
Have you been to Casablanca? Did you enjoy it?
If you enjoyed this post, please pin:
All photos ©Rhonda Albom 2012