I never thought it would happen. Yesterday I fell in love with a catamaran at the Auckland Boat Show. Sleek, sexy and welcoming, she is large enough to live aboard, yet her rigging is compact enough to allow her to sail single handed. Best of all, I can see 360 degrees from the helm. At 5′ 4″ there is frequently something blocking a portion of my view when I sail, but here there is no need to stand on tippie toes.
Why am I so surprised by a catamaran? I have always been an avid mono-hull sailor. This year's Auckland On the Water Boat Show may be the start of a new era for me. We headed to the city yesterday to join 1000's of people who wanted to catch the opening day excitement.
Auckland is nicknamed the "City of Sails" I am pleased to say the Auckland Boat Show lives up to the hype. And not just for sailors, there is something there for anyone who has even an inkling of passion for the sea at this show continuing through the weekend.
Yesterday's forecast was not too impressive. As the rain hadn't started when we arrived, we opted to view the on the water vessels before the indoor exhibits.
Here are some of my highlights from the show: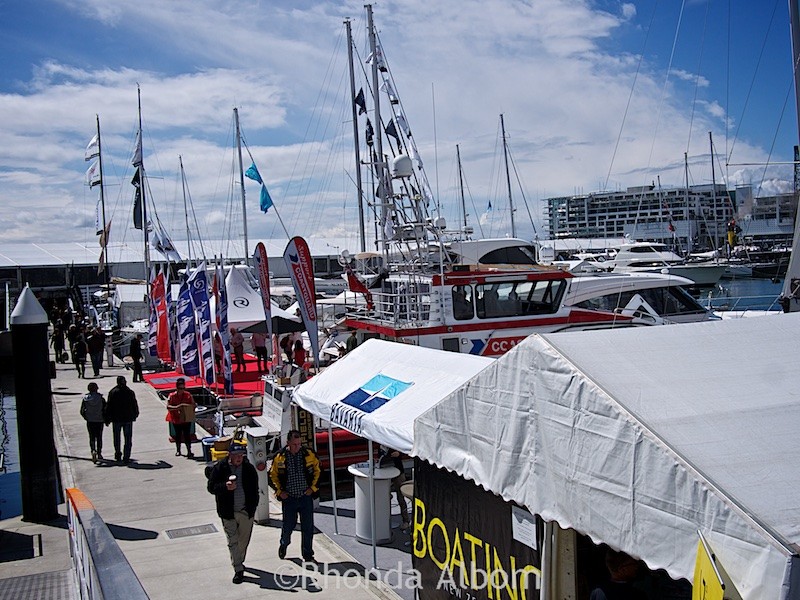 Many boats at the Auckland boat show are for sale, others are privately owned, or being represented for spec. The catamaran of my dreams is by Lightwave yachts.  This particular one already has an owner who loves and pampers her.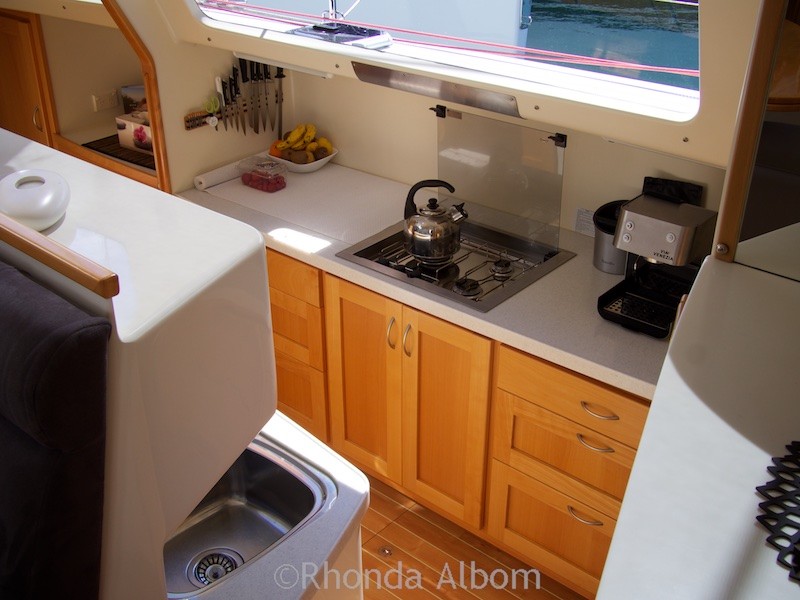 From the press release, "Water-based activities are New Zealanders' most popular pastime with more than one million New Zealanders going boating each year either sailing, fishing, participating in watersports or enjoying cruising. With more than 100 boats sold every week in New Zealand and over a thousand exported each year – the New Zealand Marine Industry plays an important part of New Zealand's economy."
The Auckland Boat Show is much more than boats, and the off the water vendors ranged from sunglasses to diesel engines, and included paddle boards, jet skis, safety gear, marine heads, and even the tiny marine grade nuts any boat owner might need.
Auckland On the Water Boat Show 2015 details:
Venue: Viaduct Harbour Events Center, Auckland
Remaining Show Times:

Friday 25 Sept 10am – 6pm
Saturday 26 Sept 10am – 6pm
Sunday 27 Sept 10am – 5pm

Entry: $20 at the door or $18 on-line.

My Best Auckland Boat Show tip: If you are plan to go aboard any vessels, you will need to remove your shoes, therefore wear shoes that slip on and off easily.

For More Information, check out the official Website of the Auckland On the Water Boat Show.
Other Auckland Festivals I Love
Auckland weekends frequently have festivals. Some of my other favourites include:
Are you headed to the Auckland Boat Show this weekend? What's your preference: power or sail, large or small craft, monohull or catamaran?
If you enjoyed this post, please pin it:
Disclaimer: I was provided with a media pass. The opinions expressed here are strictly my own.