Even at stocked places like Anatoki Salmon Farm, I am not really a very good fisherman.
That is actually an exaggeration. I am much worse than that.
I think it has to do with patience.  While I often have endless patience for things like home education, long haul travel and my children, I have very little to wait for a silly fish to mistake whatever I have shoved on the end of my line for their food.  Therefore, I don't typically wait around long enough to catch anything.
A few years back while we were touring New Zealand's South Island we came upon the famous Anatoki Salmon Farm.  It sits along the shores of the Anatoki River with fresh water flowing from the Kahurangi National Park in Golden Bay, New Zealand.
It does have a commercial element to it, which naturally we participated in.  The fishing itself was free, you pay only for what you catch (but you can't throw it back).  So our tween (at the time) must have more patience than I do, as she wanted to give it a try.  Our teen, the vegetarian had her own issues with fishing, but did help out with the net after a bit of encouragement.
The best part, they prepare your catch.  First they gut it, which apparently appeared a bit gross although I took the photo of my tween rather than the fish as it was just so much more fun.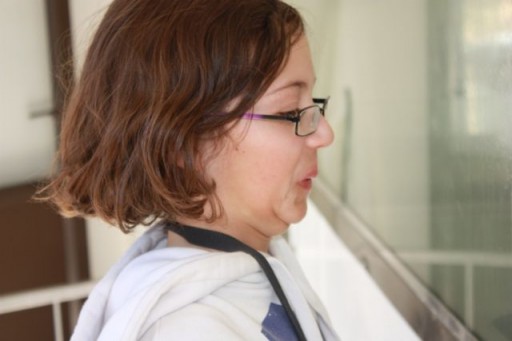 Then they cooked it for us (also free) and we enjoyed a wonderful lunch, in which I was too busy eating to take photos.
Now the sad part of this story.  Yesterday a giant landslide wiped out the main part of the farm which contained between 50,000 and 70,000 adult and young salmon.  Sadly, they are predicting the damage to have wiped out all the stock for the next two years.
However, there is still plenty to see and do on the South Island. A few of my favourites included the Catlins rainforest, the vivid azure waters Hokitika Gorge, and the mysterious Moeraki Boulders.
Do You Fish?  Have you ever paid to fish? Do you clean your own fish? Have you been to New Zealand's Anatoki Salmon Farm?
Seven ridiculously simple tips that WILL improve your photos
Whether you shoot with a phone or a DSLR, let me share my secrets.
Subscribe to Albom Adventure's Travel Tips newsletter and download our free ebook: Take Better Travel Photos By Rhonda Albom