Vigeland Sculpture Park is a must see in Oslo, but for some reason I was surprised to find so many naked statues.  Not that I expect statues to be dressed, just not so many body parts hanging around one park.
Vigeland Sculpture Park contains over 150 sculptures by the famed Norwegian sculpture Gustav Vigeland. His various artworks depict the full range of the human life cycle from birth to old age.
Here are some of our favorites, all shot from the G-rated view:
Unlike the statue we saw at Prague Castle, here at Vigeland Sculpture Park the shiny bits are a hand.  I guess this suggests that the Norwegians are in fact mature enough for a park like this.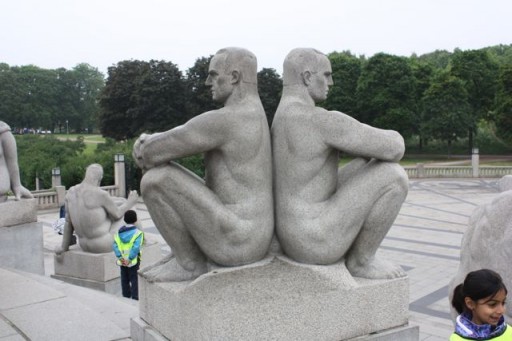 In a country where everything was shockingly expensive, it was also refreshing that this magnificent park was free to visit.
Which was your favorite statue in Vigeland Sculpture Park?  Have you been to Norway?
Travel Counter: We are in the third month of our 250 day overseas adventure. We were actually in Oslo on June 14 as we were cruising on the MSC Opera, however we had no internet access on the ship