Like so many of us, I take lots of photos when we travel and I am always looking for that edge, those travel photo tips that will improve my images. Today we picked up a few.
Cruising Alaska on the NCL Sun takes us to some stunning locations. While many of the ports are easy to navigate on our own, in Juneau we opted to divide and conquer. Or more simply put, hubby and our older teen went kayaking, while Sarah and I went on a photo safari. Heading out to see waterfalls, glaciers and whales with the ships professional photographers along to provide travel photo tips.
Why did we take an excursion in Juneau? There is much to see and do in Alaska's capital city and with our ship only staying in port for only six hours there was very limited time. If we were late getting back, we would miss the ship and have to make our own way to the next port. From Juneau that is quite an ordeal, involving either a boat or a plane. By taking an excursion, the ship becomes responsible for our safe return.
Marine Life
Before we could take whale photos we had to find the Humpbacks. For me this was the highlight of our day. I love whale watching at home (Auckland), and am pleased this is the second time we have gone whale watching in Alaska. We boarded a small craft and went searching, hoping to get a few travel photo tips and improve on that always treasured whale tail shot. Sarah was the first to spot a whale, and the second and third whales. In fact I think she spotted all the wildlife before the crew.
Travel Photo Tips for Whales:  Set shutter at 1/800. This is fast enough to stop the action, but not so fast that it will stop the water drops as they come off the tail (as stopping the drops leaves dots on the photo).
Sarah was also the first to spot some fur seals on a buoy.
Waterfalls and Glaciers
Next we took a drive to the forest. We hiked first to a waterfall, then to the Mendenhall Glacier.
Travel Photo Tips for Waterfalls:  Set shutter at 1/20 or slower if you have a tripod. The slower speed will give the effect of flowing water rather than freezing the motion.
Finally we came to the famouns Mendenhall Glacier.  It was an overcast day. We could set our white balance for cloudy to add some warmth to the photo.
Travel Photo Tips for Glaciers on an Overcast day: Set the camera's white balance to "sunny." This adds a cooling filter and will intensify the blue of the Glacier.  If we adjusted for the day, by setting the white balance to "cloudy" it would de-emphasize the blue.  However, white balance can also adjusted in post production, which is often a far better method, as it gives you originals that reflect reality.
And, as a bonus, before returning to the ship Sarah spotted a magnificent American Bald Eagle.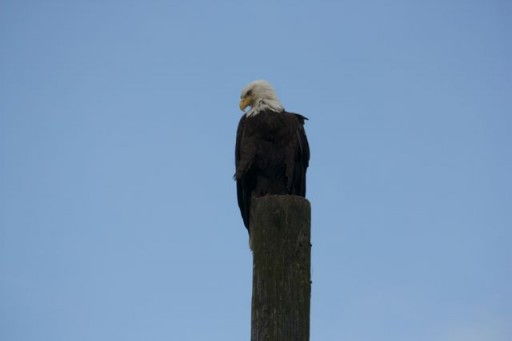 All photos on this page ©Rhonda Albom 2013. All Rights Reserved.
A quick summary of today's Photo Tips:
When shooting marine mammals, use a faster shutter speed to freeze the action, also use burst to capture multiple shots.
When shooting waterfalls, use a much slower shutter speed to blend the water and show the motion.
When shooting glaciers, set the white balance to "sun" to add a cooling filter and bring out the blues.
Do you agree or disagree with our guide? What are your best travel photo tips?
If you found these tips useful, please pin this page: