As a girl growing up in the suburbs of Chicago my Sweet 16 party was a milestone. Here in New Zealand, 16 is just another birthday.
In the states, at least in the town where I grew up, the gifts were huge too. Some of the kids even got a car. Here in New Zealand, it's just another birthday.
My baby turned sweet 16 yesterday. Hard to believe time goes by so fast.
Even she looks surprised.
Actually, it is the pizza that has her so excited. Like the rest of the family, she is thrilled to find a New York pizza in Auckland. It's beyond belief that we have been whining about New Zealand pizza for 10 years, only to discover great pizza exists only a short drive away.
Big thanks to Ellen of The Cynical Sailor and his Salty Sidekick for telling us about Sals Authentic New York Pizza. We had hoped to meet her there, but birthday pizza took priority. And it is awesome. Check out our vegetarian pizza. As you can see it is huge (especially by New Zealand standards), loaded with fresh toppings and very American in its flavor. Sal's even has Parmesan cheese, garlic powder, oregano, and red peppers to sprinkle on top.
It even looks like a New York pizzeria. Hubby grew up in New York, I was there for the first time (except for a quick trip to a conference in High School) last July, so now I am an expert (just kidding).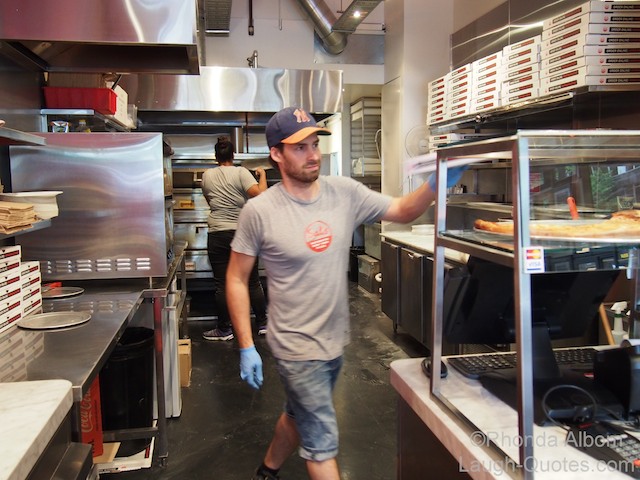 So, the question is, did I do the American thing and make a big fuss, or did I treat it like just another birthday?  The answer is both, amazing pizza is a big deal.
Did she really get a car?
You tell me:
At least she didn't get stuck this time.
Does your family have big Sweet 16 parties? What's your favorite pizza? Did you get a car for your 16th birthday?
Submitted to Silly Sunday at Comedy Plus
Disclosure: Nothing to disclose here. We paid full price for our pizza, and car ride.