It was many years ago, before I had children, even before I met my husband.  I was on a SCUBA diving holiday with my best friend in Bonaire, it's a Dutch island about 50 miles north of the Venezuela coast. That's me in red and black: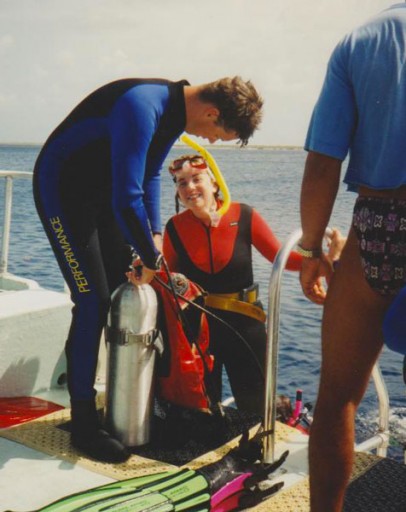 Someone even got a shot of me under the water:
I have only vague memories of the moment I knew I was in trouble, reaching out for my buddy but then spotting the boat out of the corner of my eye.  I made it on board and eventually to the partially open air hospital.  My initial doctor spoke very little English, but did manage to instruct me to. "Take off a lot of your clothes and sit over there."
He confirmed what we already knew, I needed to see the hyperbaric specialist as I most likely had decompression sickness (the bends).  Unfortunately, the specialist was home with his family. I doubt he was happy to be called in on his day off, but he came.
He took me into another exam room for standard neurological tests.  I had to stand with my feet shoulder width apart, arms out to the side, eyes closed and alternating one hand at a time touching my nose.  Seems normal enough, except he made me do this naked.
So there I am standing naked in an exam room, feet shoulder width apart, eyes closed touching my nose first with the left, then right, left, right, left, right . . .
Suddenly the silence is broken with an announcement over the loud speaker in a language I don't speak, followed by encouragement from my doctor, "Keep going."
Next thing I know a few other people walk into the room and say something to the doctor whisper, giggle and leave.
All the while there I am naked, touching my nose, left, right, left, right . . .
Then more people come in, whisper and leave – although some stay around.
"Keep going."
Left, right, left, right . . .
More people come, giggle and go.
Eventually, I was put into the hyperbaric chamber.  Check it out, my doctor (the one who made me stand naked touching my nose) is the barefoot man on the chair.  The spots on the floor are actually dirt.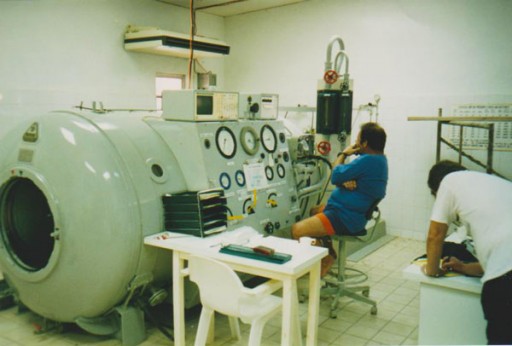 I don't speak the language so I can only guess, I think he announced, "Naked women with large breasts in exam room 4"
My question to you what do you think: What did he say over the hospital speaker?
All photos ©Albom Design 2013.  All rights Reserved.