Seeing the New York City highlights in a day is virtually impossible, but we gave it a try anyway. We actually had a few days, and spent yesterday in Central Park at the American Museum of Natural History and the Metropolitan Museum of Art.
Once again, we got up, dressed, packed, checked out, put our luggage in storage for the day, ate breakfast and we were ready to go. We had pre-booked our visit to the 9-11 memorial so we headed over there for our 10am entrance. It's really quite a powerful display, with the not-yet-completed Freedom Tower looming just behind.
Next we hopped on the Staten Island Ferry as this is the fastest, easiest and cheapest way to see the Statue of Liberty. I wanted to sail by the front, and this sure did it for me. The best part – It's free!
We reboarded the return ferry and began our walking tour north across Manhattan. Stopping first amongst a crowd at the Wall Street Bull. It didn't take us long to realize that there was no semblance of order, but rather another crowd of people pushing their way to the front for a prized photo with the bull and unintentionally photo-bombing each other.
Next we heard the continuous chiming of the bells of the Trinity Church. The old church stood out among the modern buildings like a star singing for us all.
We turned here, coming to the back of the Stock Exchange first, then walking around to its easily recognized front.
Across the street, towering over us all was the statue of George Washington from the spot in which he took oath as the first president of the United States.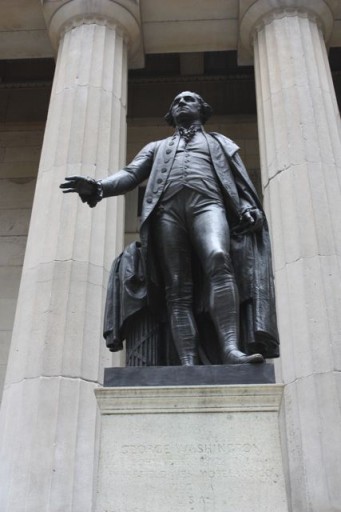 Finally as stop at the Empire State Building.
Not bad for an a day in New York City.
What do you think are the New York City Highlights? Have you been? Do you like New York City or hate it?
All photos on this page ©Rhonda Albom 2013. All Rights Reserved.
If you enjoyed this post, please pin:
Follow Our Overseas Adventures
We are currently touring in the USA. We visited New York from 26-30 July, 2013.