After her horrid flight over, it seemed only fitting that I take my niece straight to the Hell Hole of the Pacific. It was easy compared to her prior three days of travel. Just a short car drive and a quick passenger ferry and we were there, in the former heartbeat of the Hell Hole of the Pacific.
Take a look at Russell, New Zealand today:
The Hell Hole of the Pacific . . . Today
View Across the Bay:

Christ Church – New Zealand's Oldest Church, established 1836:

Duke of Marlborough – New Zealand's First Licensed hotel, established 1827: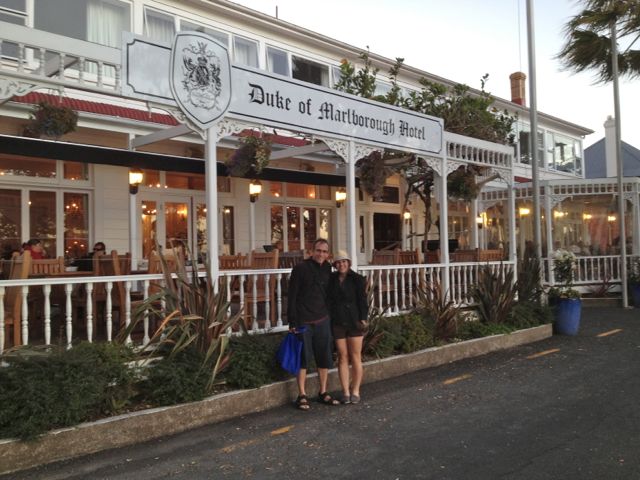 Old Whaling Pots:
Hard to believe that back in the lawless days of the early 1800s the first American and Europeans ships arrived in New Zealand. More specifically they were ocean whaling boats, and when they needed a break, they came ashore to the safe and protected harbor of Russell to rest and trade their firearms, alcohol and more. Reading the history I am not sure that safety or trade were their primary motivation, but rather to partake in this town loaded with liquor, prostitution and limited, if any, laws.
Honestly, it's difficult to stand in stunning Russell, New Zealand and imagine it was once referred to as the Hell Hole of the Pacific.
A Sewing Machine in a Tree – A Silly Story
And since it is Silly Sunday, I thought I would share silly story told to us by our waiter at the famous Duke of Marlborough Hotel. About 170 years ago (he didn't have an exact date) a fire broke out in the hotel. As the hotel burned, someone tried to save a big heavy sewing machine by throwing it out the window. Unfortunately it landed in the tree outside, which is where it stayed. The tree continued to grow up around it. Now you can only see little bits of the metal.  Being a travel photographer, I had to get a shot of this tree . . . take a close look . . .
What do you think, could you spot the sewing machine, or do you think he made up the entire story?
Submitted for Silly Sunday blog hop
The sewing machine story isn't the only legend we have encountered in our travels.  Here are few others:
All photos on this page ©Rhonda Albom 2013