I don't know about you, but I laughed as I found this to be a very funny toilet sign and therefore perfect for Silly Sunday. Have a look, do you think someone tried to underline "Respect our heritage, use a toilet" or did they try to cross it out?
Funny Toilet Sign
Photo ©Rhonda Albom 2013
Two obvious questions, where is this sign and why did I find it so funny?
Pause for second and take a guess.  Where do you think this funny toilet sign is located?  Believe it or not it is at the entrance to the parking lot where I found the vehicle security sign I posted on Wednesday.
That probably didn't help much, unless you are Sarah, the only reader who knew the sign and therefore guessed correctly (either that or she got really lucky with such a precise guess).   Going back to Wed, Sarah's correct comment, "How about at the car park of New Zealand's famous Kauri Trees in the Waipoua State Forest in Northland!"
Exactly correct.  It's in New Zealand. Probably not as surprising for this sign as for the other one, repeated here in case you missed it: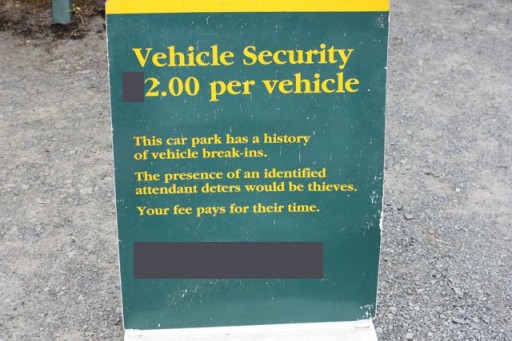 Photo ©Rhonda Albom 2013
By the way, the Waipoua Forest is a stunning subtropical rain forest in the north of New Zealand's North Island. It is loaded with some amazing and huge Kauri trees.  Starting tomorrow I will be sharing our recent travels up and around the top of the North Island.
Back to the question of the day: Did you laugh at the first sign, or more to the point why did I think it was a funny toilet sign?
It just seems really unnecessary.
I think of New Zealand as more than just clean, green living, but also a country focused on the outdoors, nature and adventure however, never when thinking about our heritage did I think of toilets.
I am not very mature.
Related Links
Gross Science: How to Make Poop In the Kitchen
Top 10 Funniest Toilet Humor Gifts
Funny Warning Signs <– Don't Miss These Real Signs