The town of Evora Portugal is much more than just the Chapel of Bones. It is an old town filled with history and historic buildings. That is what the women in the tourism office wanted to make very clear to us. Apparently, we are not the first visitors to come to the office asking only for directions to the Chapel of Bones.
After a few minutes talking with her, we opted to take a self-guided tour of the city, complete with headsets in English. As one would it expect, she was correct. There are many fascinating things to see in Evora. However, our family seemed mesmerised by the Chapel of Bones. It is possibly the eeriest place we have ever been. After all, what can you say about a chapel made of the bones of 5,000 bodies that has a sign over the doorway that translates to: "we bones are waiting here for yours to join us." Best seen in photos: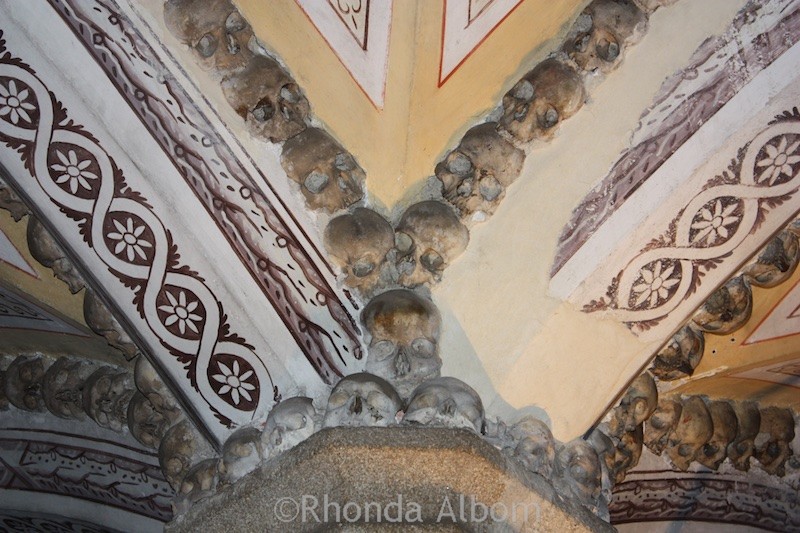 Eerie, creepy, interesting, beautiful – what is your view of the Chapel of Bones?
Wondering what else we saw in Evora? Here are the highlights:
Evora Travel Tips:
If you are in Evora after dark, visit the Roman Temple at night when it is lit up.
Stop at the Tourism Office and for only 2 Euros you can get an audio tour of the main city sites.  (And it was interesting!)
You can also fill up your water bottle for free at the tourism office.
If you eat pork, try one of the local special meals, just ask your server and they will point out which ones are local.
We carried the Lonely Planet Portugal.
All photos on this page © Rhonda Albom 2012. All rights reserved.
Have you been to Evora? Did you see the Chapel of Bones?
Albom Family Travel Counter: We are nearing the end of the fourth month of our 250-day overseas adventure. We are currently traveling through Spain for two weeks between two home exchange houses – the first in Catalunya, the second in Galicia. Our key travel stops are in Spain are Saragosa, Madrid, Segovia, Toledo, Cordoba, Granada, Seville, and Vigo. In Portugal, we will visit Evora, Sintra, Obidos, and Alcobaca.
If you enjoyed this post, please pin: