We we're really proud of ourselves for not getting sucked into buying a carpet when we were "carpet shopping" in Istanbul Turkey a few months ago.
Well thing wen  differently and I bought a carpet in Morocco.
We are in Meknes, Morocco.
We found a guide. Well, technically, the guide found us, our first mistake. He wasn't an "official guide."  We were warned in the books, but once again this man seemed like a good guy.
Funny thing, this guide was excellent.  He showed us all around the Medina.  Here is the main mosque:
This is a Koranic school, for girls and boys ages 3-5:
Here is a bakery where local families can come and have their bread baked in the wood fired oven.  The large bowl on the right is mixing dough, while the wood in the background is used to stoke the fire which we can't see due to the rack in the center.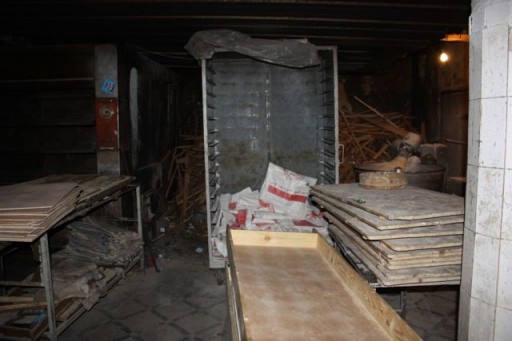 This is a door to a private cemetery, for the rich people:
He also showed us this typical craft booth where the man who runs it sleeps in the booth on the floor (look closely and you will see him) until the ladies come to shop.
There was a lot more including the souks and in the end, he took us to a carpet store – "No obligations, strictly hospitality."
We were greeted with a glass of mint tea (a Moroccan tradition and a new favorite of ours).
This time we learned all about the different kinds of rugs, how they are hand made and what many of the symbols mean.  Unlike in Istanbul, our salesman today treated us like he was a tour guide, there to teach us all about rugs.
And, he was smart – he talked about Morocco and the equality of men and women in the home.  How, like in New Zealand, families make decisions together, although he referred to me as the "Minister of the Interior" and hubby as the "Minister of Finance," he never brought up the cost of a rug until long after he had us pick out a favorite.
Here is where the game continues.
He was fair.
And we left feeling pretty good about our small, handmade, Berber rug – check it out – We bought a carpet in Morocco:
Unless otherwise noted, all photos on this page ©Rhonda Albom 2012
Rhonda's Travel Tips for Meknes
Don't drink the tap water, don't drink anything with ice and be sure you are given unopened bottles of water when you purchase them.
Carry toilet paper with you.  Carry lots of toilet paper if you accidentally drink the water.
Watch for the details in the deals you make.  We were offered free drinks to eat in a restaurant. The drinks would have cost 45 dirham for the table.  As promised they were not included, but they charged us 45 dirham for "service" instead.
Ask at your Riad or Hotel for the going rate for a taxi for where you are going, and negotiate with the driver for this rate before you get into the cab.
Don't be embarrassed to offer a really low price when negotiating for carpets. If you are going to buy a Berber rug,  and don't know where to shop, we went to Riad Al Mansour.  They don't have a webpage, but they are at 33, Rue Sebarine (V.A.) in Meknes – and talk to Nordin.
You do not have to pay the man to remove the snake from your shoulders.
Related Links: