Grauman's Chinese Theater (now called TLC Chinese Theater) is an icon in Hollywood. It is home to the courtyard where the stars are invited to leave hand and/or foot prints. It's where they are immortalized forever.  A tradition that has been going on since the 1920s,  it is a huge honor to be invited to leave a print. Now a days the ceremonies are an event in their own right. None were going on when we were there. However, we had plenty of time to walk around and compare our hands and feet to the stars.
I will admit, Grauman's Chinese Theater is one of those completely touristy places, yet I just had to visit. Located on Hollywood Blvd, it's an area filled with tourists, a camera in every hand. If Grauman's Chinese Theater isn't enough, just outside is the Sidewalk of the Stars.
And, there is more. Just outside the theater, along Hollywood Blvd is the  sidewalk of the stars, another opportunity to look for some of our favorite names.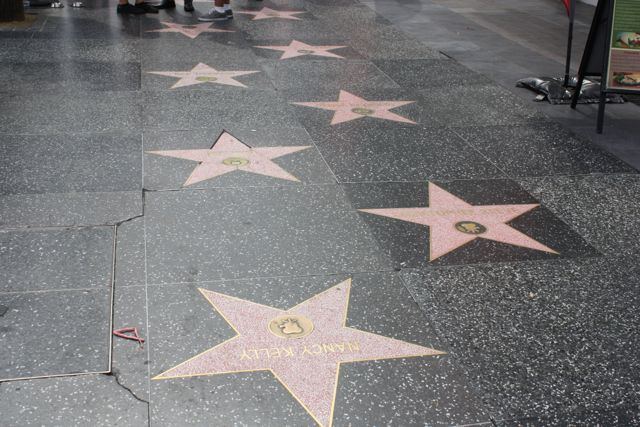 Sometimes, my family makes a bit of fun of me for being so star struck, but I will be the first to admit, I had a great day.
All photos on this page © Rhonda Albom 2013
Still want more glitz and glamour, located right next is Madame Tussauds Hollywood.
Practical and Interesting Information:
It hasn't officially been called Grauman's Chinese Theater since 1973, although it has changed names a few times since that time.
Many of the older hand and foot prints include personal notes to Sid Grauman.
The first handprints were of Norma Talmadge on opening day May 18, 1927.
TLC Chinese Theatres are now an IMAX multiscreen.
If you are star struck like me, you might enjoy these Hollywood Stories.
Have you been to Grauman's Chinese Theater? Which hand and footprints will you look for first?
Submitted for Wordless Wednesday.